The 111th has been specializing in vertical imagery for over 20 years. Recently, the quality and efficiency of new cameras, software, and methods have changed dramatically. We have embraced the new paradigm and offer a cost-effective alternative to traditional large-format cameras. We offer exceptional accuracy and quality, in addition to faster service at a very competitive price point.
Equipment:
Our all digital aerial survey system consists of the following:
Calibrated 100 megapixel Hasselblad A6D aerial survey camera
Aviatrix Flight Management System and planner (for accurate flight line plans and flight guidance)
Cirrus Digital Systems Camera Genie (to capture accurate camera positions in real-time)
Vector Nav VN-200 Inertial Measurement Unit (to record accurate pitch, roll and heading of camera)
Custom airborne computer and remote pilot monitor
Our processing of imagery is done utilizing Agisoft Metashape Professional for accurate Photogrammetric solutions.
Example: Results of a recent test are shown below. The subject is the San Martin airport, located approximately 4 miles NW of Gilroy, CA. Eight ground control points were marked out, however they were much smaller than the typical targets. They are white crosses with 2" wide by 12" long legs. Flight altitude was 1,050 feet producing a GSD (ground sample distance) of .7"/pixel.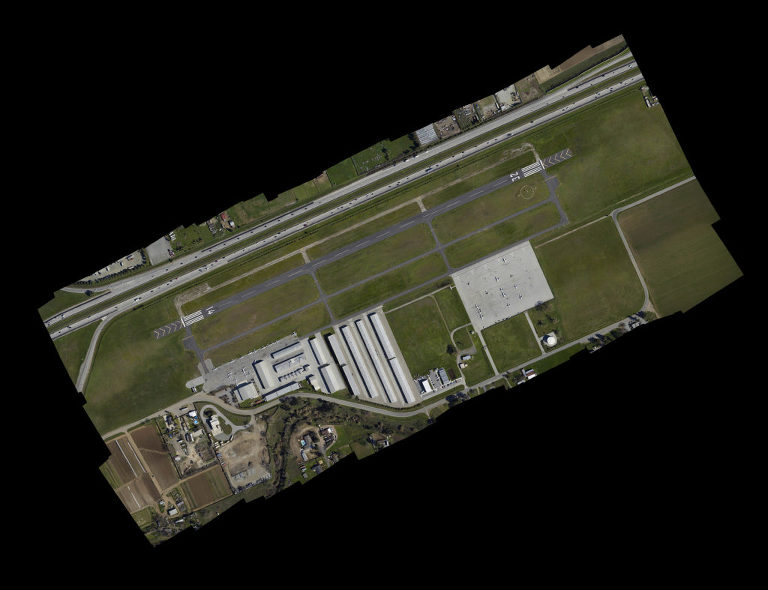 San Martin Airport in southern Santa Clara County
This project was approximately 264 acres. Four flight lines were flown with 70% forward/50% side overlap. It required 140 images total, 35 images per line. Ground control point number 1 is shown in this image at the tip of the red arrow. As you can see, it's pretty small, compared to the image size.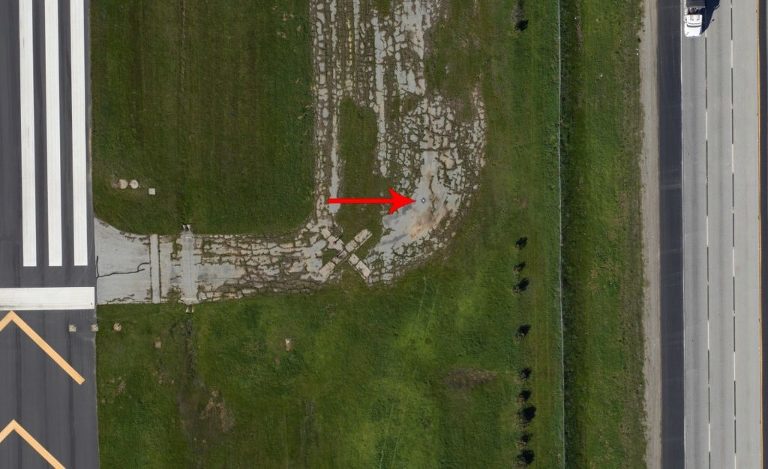 This ortho was produced without ground control with the following results:
This set of images shows the target at pixel level magnification. The GSD of .7" looks very close, since the legs of the target are 2" wide and it appears that approximately 3 pixels span the 2" legs of the cross.
This 10.3 cm offset is very consistent with respect to distance and direction on this project, however further tests are being done to determine whether a global offset correction would be appropriate, or if it just turned out this way on this particular image set.
Either way, we encourage our customers and partners to set out ground control so the end product is extremely accurate. When GC is factored into the processing at the outset, the image accuracy nearly matches the GC accuracy.
DEM production:
Accurate elevation data is derived from the imagery with the Metashape program, which can be further leveraged into producing topo maps and measuring piles and pits for volume.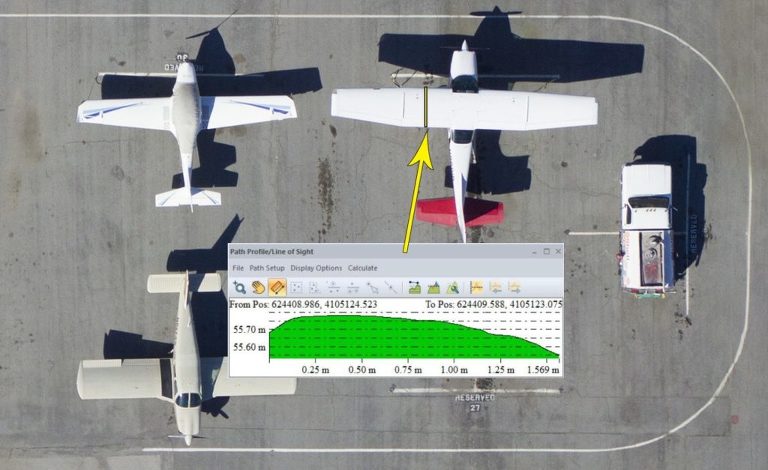 This is showing the wing camber of a Cessna 182 sitting on the ramp in this part of the ortho.

Corridor Mapping:
Our FMS (Flight Management System) enables us to accurately follow a highway, canal or railroad with parallel lines to create a beautiful ortho/DEM of any length.
We have been documenting the High Speed Rail construction monthly since 2015 which is 29 miles of serpentine road bed from Madera to Fresno.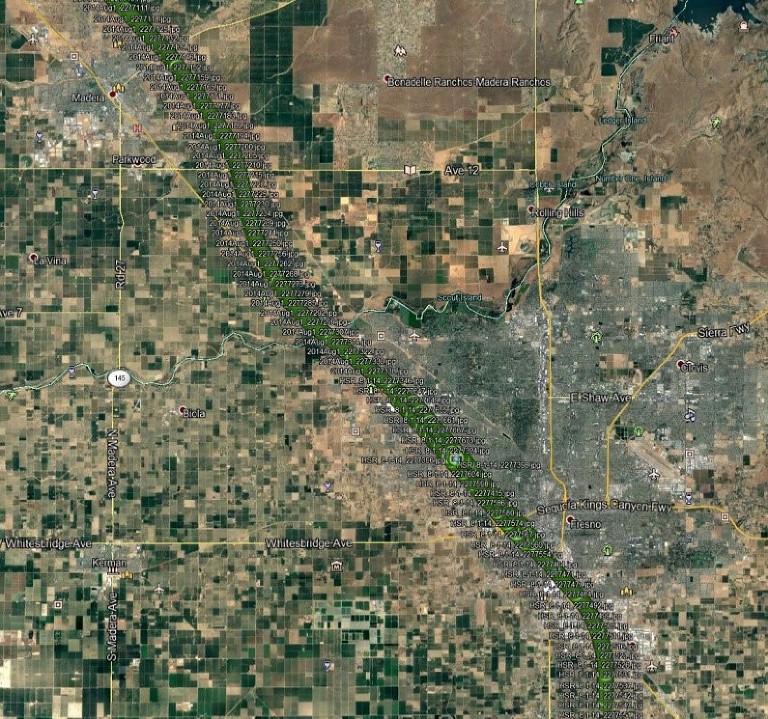 We surveyed the Humbolt littoral for USGS at Arcata in October 2019 with 4 parallel flight lines for an erosion study, shown below.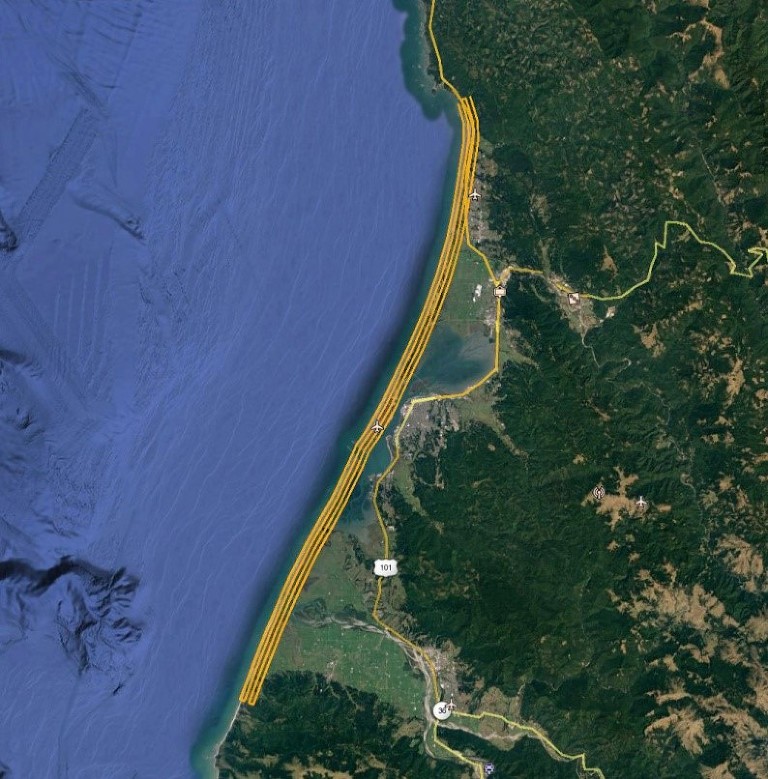 Partners Wanted:
We are really good at capturing aerial images, but we are not licensed Surveyors. Many of our customers do not need certification because they self certify (maybe a surveyor that will put out their own GC and verify the completed ortho) or it is not required for the intended use. Generally, any civil engineering project requires a PLS to produce the ortho, although most aerial mappers like ourselves are not licensed as a PLS.
Therefore, we are actively looking for Surveyors and Civil Engineering companies to partner on bids and RFP's requiring aerial mapping/photogrammetry. We will be reaching out to you for these types of opportunities.